Trauma care is specialized medical care for victims of injuries that are considered physical traumas. These are injuries that could be fatal or that could cause permanent, long-term, or serious disability.
Trauma care of Belle Vue Clinic provides both immediate, emergency care and specialized care for patients who are at risk of dying or suffering from permanent disability. Traumas are preventable, but still happen often.
The standardized care at Belle Vue Clinic help to ensure that patients do get the best possible care.
Belle Vue Clinic, is equipped and staffed to provide care for patients suffering from major traumatic injuries. The trauma team of Belle Vue Clinic comprises of:
· ANAESTHESIST
· BLOOD CENTRE OFFICER
· CRITICAL CARE
· CTVS
· ENT
· GYNAECOLOGY
· GASTRO-SURGERY
· GENERAL SURGEON
· INTERVENTION CARDIOLOGY
· MAXILOFACIAL SURGERY
· MEDICINE
· NEURO SURGERY
· NEUROLOGY MEDICINE
· ORTHOPEDICS
· PAEDIATRICS SURGERY
· PLASTIC SURGERY
· PULMONOLOGIST
· PHYSIOTHERAPIST
· PSYCHOLOGIST
· RADIOLOGIST
· TRAUMA CARE NURSE
· UROLOGY
Dr. Shabana Munshi
MBBS/DGO/DNB/MRCOG
Dr. Amit Agarwal
MBBS/MS/M.CH
Dr. Akhilesh Agarwal
MBBS/MS/M.CH
Dr. Rajan Tondon
MBBS/MS/M.CH
Prof. Dr. Sumanta Ghosh
MBBS/MS/FRCS
Dr. Santosh Kumar
MBBS/D.ORTHO/DNB/M.CH
Dr.Hasan Iqbal
MBBS/MSc. ORTH
Dr. Rajesh More
MBBS/MS/DNB/MNAMS
Dr. Manoj kr Mahata
MBBS/MD/DM
Dr. Ankit Khandelwal
BDS/MDS/PGDCC
Dr.Sunil Baran Roy
MBBS/MD/DM
Dr. Bhaskar Paul
MBBS/MS
Dr. Rahul Jain
MBBS/MD
Dr. Tapan Sarkar
MBBS/DTCD
Dr. Sarfaraz Baig
MBBS/MS/FRCS/FIAGES
Dr. Dipankar Datta
MBBS/MS
Dr. Uttam Agarwal
MBBS/DLO/DNB/MNAMS
Dr. Sanjay Singh
MBBS/MS/MCH/DNB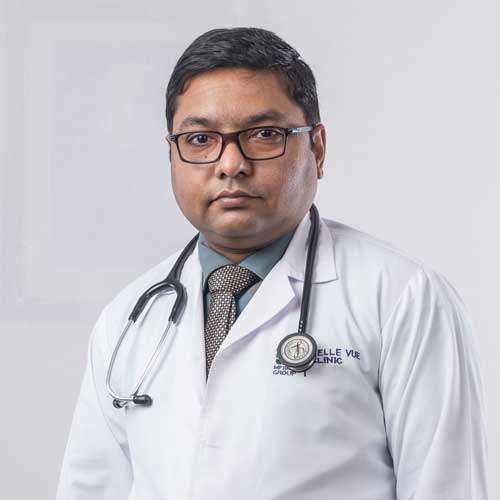 Dr. Arindam Moitra
MBBS/MD/DM